"
The Still Force, it's supposed to be a place where... all time exists, past, present, and future.
"
The Still Force is a Force of Nature.
In May 2020, the Still Force was unleashed when Iris West-Allen reactivated the Speed Force.[1]
Later, Still Force attacked the Speed Force along with the Sage and Strength Force.[2]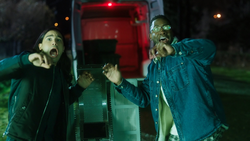 Time Manipulation: Still Force users are able to freeze a single moment of time.[3]
Time Travel: Still Force users are able to travel back in time through teleportation and the use of temporal isotopes as well as rewinding time.[4]

Displacement: Still Force users are able to send certain objects and people through time, as seen when Deon Owens sent Cisco Ramon's weapon and individuals back in time in era appropriate outfits.[4]
Memory Manipulation: As a side effect of Still Force users' abilities, individuals sent back in time will lose their memories and revert to that in the time period, as seen when Ramon's consciousness reverted to his 7-year-old self until Runk mentions present day concepts and restored his memories.[4]
Time Pockets: When Still Force users use their powers, a dome of Temporal Energy forms and disallows anything and objects from penetrating itself until they disables their powers.[4]