"
Life is just full of little surprises, isn't it?
"
Bashir Adil Malik, nicknamed Psych by Cisco Ramon, is a user of the Sage Force and a reformed criminal in Central City
On March 5, 2007, Malik's parents died fleeing from tax fraud on a plane. This affected Malik's life and he started isolating himself from friends and family, eventually generating hate against his friends for not helping him despite their multiple efforts to raise fund for him.[2]
In 2008, Malik graduated from college.[2]
Nightmares of Central City
[
edit source
]
In mid-2020, Psych attacked a Crows Security transport truck. The Flash then quickly arrived on the scene, seeing the guards shivering on the ground holding their gun. Psych then surprised The Flash and was cuffed. The cuffs were then disabled and put The Flash in a "nightmare" with Reverse-Flash and Savitar. Psych then escaped, leaving The Flash bleeding out on the ground.[1]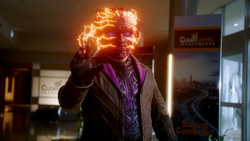 Hours later, Psych attacked the Cleary Capital Investments and placed the employees under their own "nightmares". The Flash, Mecha-Vibe and Frost then arrived with Mental Dampeners. Psych was then able to use his powers to cause the dampeners to short circuit. He then placed Frost in a "nightmare" where she was arrested by the CCPD and Caitlin was the person who turned her in. He also placed Cisco in his "nightmare" where Kamilla was in danger. Seeing his friends in fear, The Flash later attacked him with a lightning bolt and Psych absorbed the energy. The Flash told Psych that he could not do the same to him as he already overcame his biggest fear. Psych then told him that it was not his biggest fear and showed him the team dead under an attack.[1]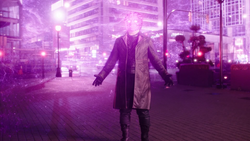 In that night, Psych created a force field of isotopic energy and affected countless with "nightmares". He was then approached by The Flash, who attempted to enter his force field and was trapped in his own dream. As Cecile Horton convinced him to break through, she was able to create her own force field and defeated Psych, causing him to turn into purple energy and escape.[1]
Ambush on Team Citizen
[
edit source
]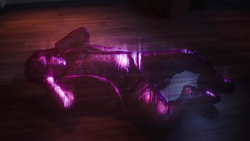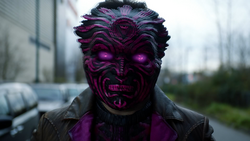 Sage Force Connection: Malik has a connection to the Sage Force and was able to fight The Flash, who is connected to the Speed Force.[1]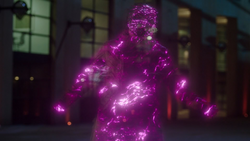 Courage: As Psych uses fear to suppress people's courage, when people have a boost of courage, such as Cecile's amplified empathy on The Flash, Psych is unable to control his powers well and disappears.[1]
Psych Suit: Malik wears a purple mask and a magenta suit as Psych.[1]