"
Transformation is the most vital cornerstone of the dark arts. To do this spell, twist your wrist in the direction of the object, and visualize what you want your object to change into.
"
Permuto, also known as the Permuto Spell,[1] is a magic spell that is capable of transforming one object to another and exchange two souls.
In 2020, Astra Logue was manipulated by Aleister Crowley and learnt the spell from him. Later, she was able to exchange the souls of Crowley and Constantine during their argument. Despite Constantine's multiple attempt to convince Astra to revert the spell, she did not obey and placed him in the attic, where Crowley has been in for years. Unfortunately, the manipulation was successful and Crowley was able to forge an amulet.[2]
Crowley then casted a transformation spell against Astra and transformed the entire house into a cartoonish world. Astra sought the assistance of Constantine and casted a expulsion spell. As a result, both Crowley and Constantine lost their magic as the world reverted.[2]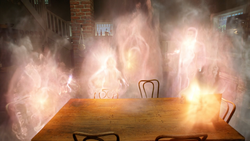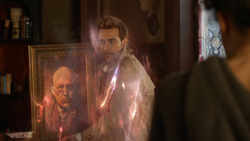 Soul Exchange: As "permuto" has another meaning in Latin (exchange), the spell swaps the positions of two people.[2]
↑ Translates from Latin to: "transform' or 'exchange".