"
Years ago, your mum created a powerful cleansing spell, like an enema for magic. It expels all sorcery from a vicinity.
"

— Constantine to Astra

[src]
The Expulsion Spell, also known as the Cleansing Spell, is a magic spell created by Natalie Logue as a contingency plan in case of Constantine's obsession with the occult backfires.
When Constantine and Natalie dated, the former started getting obsessed the occult world and later chose it over the relationship.[1]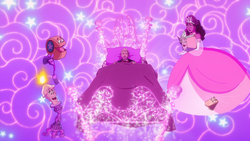 In 2020, Astra found the spell's songbook in Constantine's attic. Eventually, Constantine told her to use the spell against Aleister Crowley.[2]
Cleansing: The spell is capable of cleansing all magic within a contained location, stripping all magic users in the area until they are able to learn the advanced skills from scratch.[2]