"
I am not afraid of dying, and I won't let any more women or men under my command get hurt.
"
Captain Kristen Kramer is an employee on Metahuman affairs of the Governor's Municipal Logistics Commission and a police captain in the CCPD.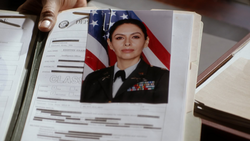 Since 2005,[1] Kramer had been a soldier in the U.S. Army and worked in Gotham City.[2]
In 2014, Kramer led a group of soldiers with Adam Creyke, who she deemed a hero. However, Kramer's mistrust of the "hero" accidentally lured the group to danger and caused the death of 20 soldiers, leading Kramer into hating Metahumans pretending to be heroes despite being criminals.[3]
Hunt for Killer Frost
[
edit source
]
In mid-2020, Kramer was assigned to CCPD and talk to Captain West about the Invasion of Central City.[4]
Later, Kramer went to the precinct and met West and Iris. Kramer then stated she was early and told West that she would return later on. Iris then stated her suspicions on Kramer and found out Kramer's time in the army as well as Gotham City along with redacted files.[2]
When Kramer returned, West stated the new information he got on her and asked her to tell the truth. Kramer then stated her intentions of arresting Killer Frost.[2]
Working with Joe West
[
edit source
]
Ambushed in Midway City
[
edit source
]
The Godspeed Imperative
[
edit source
]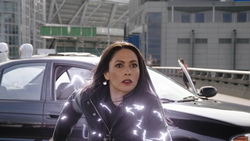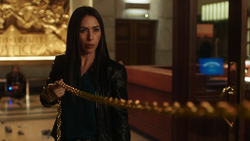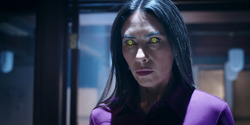 Investigation: Kramer was a part of the army's intelligence division, proving she has excellent investigative skills.
Marksmanship: Kramer was trained with using firearms in the army.
Hand-to-Hand Combat: Kramer is proficient in a variety of combat skills.[6]
Flash Alert: Kramer was given an emergency beacon by The Flash, with a direct line to him when there is danger in the city.[6]