Daisy Korber (destroyed 2020) is a creation of Eva McCulloch and a member of her team.
In 2020, "Daisy" attacked her creation template and grabbed the latter into the Mirrorverse, later replacing her on Earth-Prime.[1]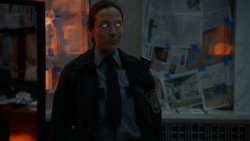 Reflection Physiology: Created as a Reflection, "Daisy" has a standard physiology of a Reflection.[1]

Connection to Eva McCulloch: As a creation of Eva, "Daisy" gains connection to her directly.[1]
Other versions of Daisy Korber