"
When I was a kid, I drew pictures of how I imagined a black Batman would look. It turns out that my dad was secretly turning those pictures into reality.
"
The Batwing Suit is a protective suit created by Lucius Fox for his son, Luke Fox.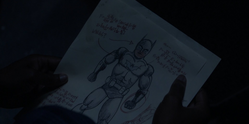 During Luke's childhood, he drew pictures of how a black Batman would like, which inspired his father to turn those pictures into reality. However, it was placed in his workshop in the Batcave for years before "Circe Sionis" searched for Batman's trophies and led the Bat-Team to discover extra rooms in the Batcave.[1][2]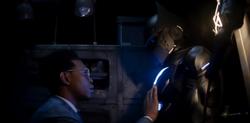 In 2021, Luke Fox investigated the Channel 64 Gotham Live logo shown on Black Mask's recording. As he tripped, he discovered his childhood drawings including a blueprint for the Batwing Suit. He then searched for the suit, activating it with a touch. Later, he wore the suit and rescued Mary Hamilton from falling, defeating Russell Tavaroff.[2]
"
The suit tracks all kinds of medical data...biometrics, eye movement, electromagnetic impulses to the brain, heart rate. It's just constantly monitoring the health status of the person wearing it.
"
The suit is a metallic exosuit with blue lights on the back and the emblem. The helmet also conceals the entire face of its user, with it being able to be opened manually.
Flight:
Advanced Durability:
Identity Concealment: