"
To the end, I grapple with thee. From the bottom of hell's heart, I stab at thee. For hate's sake, I spit my last breath at thee.
"

— Tobias Whale's last words

[src]
Mayor Tobias Whale was a powerful politician and a crime lord in Freeland. Powered by the Anti-Aging Serum, Whale has an extended lifespan and gained superhuman strength, making him one of the most powerful Metahuman criminal in Freeland. With his politician identity as a cover, Whale rose to become the leader of the gang The 100 and the leader of the Shadow Board.
Whale was responsible for the death of reporter Alvin Pierce, who attempted to investigate the criminal underworld of Freeland and eventually exposed Whale's identity as the leader of The 100, as opposed to being a politician in the city. The murder motivated a young Jefferson Pierce, who witnessed the crime, to seek revenge for his father. Pierce soon grew up as Black Lightning and defended Freeland from a variety of danger.
In 2019, Whale was arrested for his crimes and was under ASA custody before escaping during the war on Markovia. He returned to his home and again restored his power in the city, now posing as a businessman of The Whale and running for mayor in order to "save" Freeland. Unfortunately, he was again defeated by Black Lightning and his team, with him being impaled to Death after being blasted by Black Lightning.
Escape from Imprisonment
[
edit source
]
"
As many of you may know, Freeland is suffering from one of the worst economic hardships in recent history. The homeless epidemic is at an all-time high. Local businesses are closing down all over the city....It's no secret that Freeland has fallen from grace. But I tell you, the best part about gettin' knocked down...is you have the chance to come back stronger and better than ever before. That starts with leadership, the kinda leadership my campaign is built on.
"

— Tobias Whale's speech

[src]
"
If a man shall begin with certainties, he shall end in doubts. But if he will be content to begin with doubts, he shall end in certainties.
"

— Tobias entering Phase Two of his plan

[src]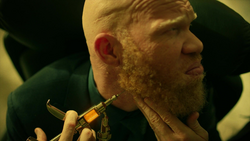 Powers via Anti-Aging Serum: Whale injected himself with the Anti-Aging Serum and gained a variety of powers, turning him into a dangerous individual and a threat to Freeland.

Enhanced Longevity: The serum gives Whale an extended lifespan, keeping his appearance the same for over 30 years.
Enhanced Strength: Whale possesses a tremendous strength and capable of lifting an individual with ease.
Enhanced Durability: Despite vulnerable to bullets and knives, Whale is able to withstand human attacks and able to retain little to no injuries afterwards.

Electrokinesis Immunity: Whale altered the formula of the Anti-Aging Serum, allowing himself to be immune to Black Lightning's electrokinesis.[1]
Powers via the Meta Booster: Whale was briefly powered by the Meta Booster created by Lynn Stewart.

Invisibility: Whale was able to appear invisible to the naked eye for an hour.
Hand-to-Hand Combat: As a powerful criminal, Whale is fluent in multiple hand-to-hand combat skills, defending himself from Black Lightning.
Genius-level Intellect: Whale was shown to have an intellectual mind and able to create plans to defeat Black Lightning.
Marksmanship: Whale was proficient with using standard firearms.
Sunlight: As an albino, Whale's skin is extremely vulnerable to the sun, which could result in sunburn.
Power-Dampening Technology: Whale's powers can be negated with power-dampening technology.
Anti-Aging Serum: Whale injected himself with the Anti-Aging Serum and gained a variety of powers, turning him into a dangerous individual and a threat to Freeland.
Other versions of Tobias Whale